HPU 747 VOC Urethane Clearcoat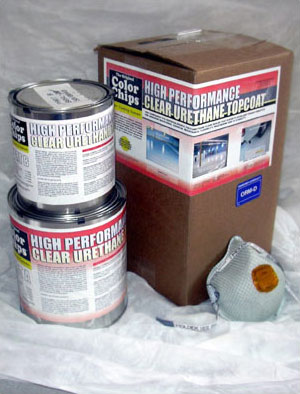 SIZES:
.75 Gallon (250+ sq/ft)
1.5 Gallon (500+ sq/ft)
Original Color Chips High Performance Urethane (HPU) is a clear two component polyester/aliphatic polyurethane floor sealer that exhibits excellent characteristics for abrasion resistance, chemical resistance, flexibility, weathering and UV stability. It is considered a hazardous material therefore can only be shipped via ground transportation (UPS/FEDEX ground only).
When to use High Performance Urethane as a clear coat: Used on epoxy color chip floors with a light to heavy broadcast; this thin mil urethane clear coating will go over the chips and allow the flakes to provide a bit of texture on the floor. HPU has excellent chemical resistance and is more resistant to yellowing over time when compared against traditional epoxies. Perfect for giving your epoxy garage floor coating additional chemical resistance and protection.
When NOT to use High Performance Urethane as a clear coat: An interior surfaces that exposed flame is present (unless you distinguish flame). HPU emits flammable vapors upon application. It is not recommended for inside buildings/basements, etc. The odor is very strong and must be used in a well ventilated area.
HPU is also recommended for auto service centers, warehouses, laboratories, aircraft hangers, cafeterias, exterior tanks, outdoor service and chemical exposure areas.
NOTE: Residents of NY, NJ, PA, MD, CT, MA, and CA, this is a VOC compliant product.
CURE SCHEDULE: (70°F)
pot life – 1 1/2 gallons volume: 2-5 hours
tack free (dry to touch): 2-4 hours
recoat or topcoat: 4-8 hours
light foot traffic: 14-24 hours
full cure (heavy traffic): 3-5 days
APPLICATION TEMPERATURE:
45-90 degrees F
SOLIDS: 53%
VOLATILE ORGANIC CONTENT:
Less than 3.8 pounds per gallon
RECOMMENDED FILM THICKNESS:
3-5 mils per coat wet thickness (yields 2-3 mils dry)
COVERAGE PER .75 GALLON KIT:
200 to 300 square feet @ 3-5 mils wet thickness
MIX RATIO:
2 parts A to 1 part B by volume
FINISH CHARACTERISTICS:
High gloss (>80 at 60 degrees @ Erichsen glossmeter)
ABRASION RESISTANCE:
Taber abrasor CS-17 calibrase wheel with 1000 gram total load and 500 cycles = 20.0 mg loss
IMPACT RESISTANCE:
Gardner Impact, direct & reverse = 160 in. lb. (passed)
FLEXIBILITY:
No cracks on a 1/8" mandrel
ADHESION:
360 psi @ elcometer (concrete failure, no delamination)
VISCOSITY:
Mixed = 200-400 cps (typical, most colors)
HARDNESS:
Shore D = 72
PRODUCT STORAGE: Store product in an area so as to bring the material to normal room temperature before using. Continuous storage should be between 60 and 90 degree F.
PRODUCT MIXING: This product has a two to one mix ratio by volume- merely mix two gallons of part A with 1 gallon of part B. After the two parts are combined, mix well with slow speed mixing equipment such as a jiffy mixer until the material is thoroughly mixed and streak free. Avoid whipping air into the coating. Improper mixing may result in product failure.
PRODUCT APPLICATION: The mixed material can be applied by brush or roller. Maintain temperatures within the recommended ranges during the application and curing process. Properly prime the substrate (with base coat or other sufficient primer). It is best to maintain a wet edge to avoid roller marks. Direct sunlight or high temperatures may cause visible roller marking during application. Too thick of an application may result in solvent entrapment and product failure.
RECOAT OR TOPCOATING: Multiple coats of this product are acceptable. If you opt to recoat this product, you must first be sure that all of the solvents have evaporated from the coating during the curing process. The information on the front side are reliable guidelines to follow. However, it is best to test the coating before recoating or topcoating. This can be done by pressing on the coating with your thumb to verify that no fingerprint impression is left. If no impression is created, then the recoat can be started. Always remember that colder temperatures will require more cure time for the product before recoating can commence. Before recoating or topcoating, check the coating to insure no contaminants exist. If a blush or contaminants are present on a previous coat, remove with a standard detergent cleaner. When recoating this product with subsequent coats of the urethane, it is advisable to apply the recoat before 24 hour passes. Also, it is advisable to degloss the previous coat to insure a trouble free bond.
CLEANUP: Use ketone solvents (M.E.K.).
RESTRICTIONS: Restrict the use of the floor to light traffic and non-harsh chemicals until the coating is fully cured (see technical data under full cure). It is best to let the floor remain dry for the full cure cycle.
FLAMMABLE PAINT: DANGER! FLAMMABLE LIQUID AND VAPOR. HARMFUL OR FATAL IF SWALLOWED. ASPIRATION HAZARD - CAN ENTER LUNGS AND CAUSE DAMAGE. HARMFUL IF INHALED. MAY CAUSE CENTRAL NERVOUS SYSTEM EFFECTS, INCLUDING DIZZINESS, HEADACHE OR NAUSEA. CAUSES EYE, SKIN AND RESPIRATORY TRACT IRRITATION. MAY CAUSE ALLERGIC SKIN AND RESPIRATORY REACTION. OVEREXPOSURE MAY CAUSE BLOOD, LIVER, KIDNEY DAMAGE. USE ONLY WITH ADEQUATE VENTILATION. KEEP OUT OF THE REACH OF CHILDREN.