Devran 224V High Build Solventborne Epoxy
(formerly Devran 224HS)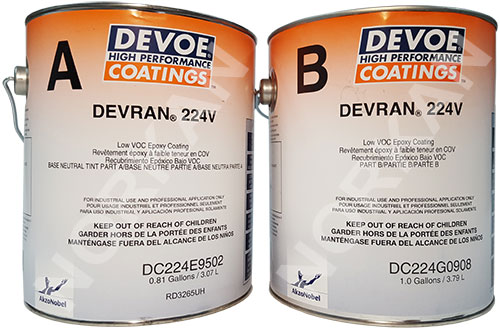 1 Gallon (+450 sq ft)
High Build Solventborne Epoxy Coating - This is an industrial grade epoxy used for a longer lasting more durable floor. It has a higher solids count that most solvent based epoxies and a long potlife for ease of installation. This 2-gallon kit will cover up to 400 sq/ft. It consists of 1 gallon of Part A (pigment) and 1 gallon of Part B (hardener). It is extremely thick but easy to work with. The recommended topcoat is the HPU 747 Urethane. The 224V Epoxy is solvent based, therefore should not be used in confined spaces. The solvent count is low so the odor/fumes aren't too volatile, but good ventilation is highly recommended.
224V is a surface tolerant, two-component chemically-cured epoxy semi-gloss coating for industrial or high performance architectural coating (HIPAC) applications. For use on properly prepared steel or masonry surfaces: Use as a filler for concrete block.
Typical Uses: warehouse floors, garage floors, industrial environments, floors and equipment in chemical, fertilizer, power plants, petroleum refineries, pulp and paper mills, water and sewage treatment plants and mining operations. Can also be used in the hard service areas of correctional facilities, schools, commercial and restaurant kitchens were a high performance architectural coating (HIPAC) is required.
Special Qualifications: Federal Specifications TT-C-550, TT-C-535B, MIL-C-22750F, and MIL-P-23377F Type I.
Colors Available: Beige, Taupe, Wheat, Tile Red, Light Gray, Slate Gray, Charcoal, Black or Custom Colors. (or pick a custom color from www.colorcharts.org)
Finish: Semi-Gloss
Reduction Solvent: Xylene
Weight/Gallon: 12.5 lbs./gal. (1.5 kg/L) – varies with color.
VOC (EPA 24): 1.8 lbs./gal. (212 g/L) – varies with color.
Solids By Volume with color (ASTM D 2697-7 days): 77%
Coverage Per Gallon: 200 sq/ft (or 400 sq/ft for 2-gal kit) (add thinner to get more coverage and workability)
Recommended Film Thickness: microns) dry – 5.3-10.7 mils (155-267 microns) wet. 4.0-8.0 mils (100-200 sq/ft) dry
Service Temperature Limits: 250°F (121°C) dry
For maximum adhesion and longevity; thin out your first coat of epoxy with Xylol Xylene (16 oz per 2-gal), this coat will serve as a primercoat and allow the epoxy to soak deep into the concrete. Then apply your second coat of epoxy without thinning it for a uniform sheen and coverage). Even if you are doing a single coat, Due to the thickness of this product we recommend thinning it out with Xylol Xylene . This allows for much easier workability and allows the material to stretch further.
Devran 224V Basecoat Epoxy
Product Data Sheet
MSDS Part A
MSDS Part B
VIEW IN OUR STORE