Original Color Chips Non-Skid Additive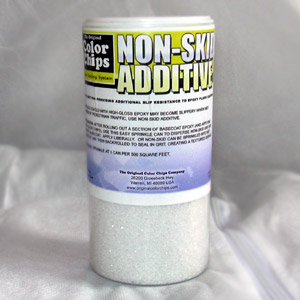 Grit Sizes:
• 64
• 24
• 36
• 54
• 180
Non-skid Application:
Surfaces coated with high-gloss epoxy may become slippery when wet. For additional slip resistance in areas of pedestrian traffic, use the Non-Skid Additive. After you have applied your base coat, use the Original Color Chips Easy Sprinkle Can to sprinkle grit onto base coat. Then once dry, apply clear coat over grit to create bumps in the texture. Be sure not to apply non-skid in too high-concentration. Sprinkle 1 can (1.5 lbs.) of non-skid per 500 square feet.
For a more aggressive non-skid application, sprinkle the non-skid in the clear coat by rolling out area, sprinkling the desired coverage then back-rolling over area to seal the non-skid into clear coat.
VIEW IN OUR STORE