Franmar Bean-e-doo Floor Mastic Adhesive Remover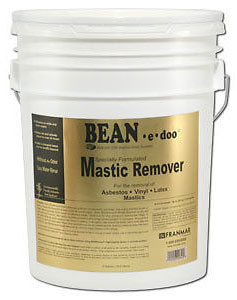 • Stays wet & cleans for over 24 hours
• NO ODOR, does not require negative air, no dangerous fumes, non-flammable
• Landfill acceptable, does not add to HAZ-MAT, 100% biodegradable
• Easy clean-up, rinses clean with water, no residues after water rinse
• SAFE in occupied areas!
Made with soy and is definitely the safest and best remover on the market. Just spread on the mastic to be removed, and then wait 10 minutes, and scrape the mastic off! To make sure all the residue is off before mastic re-application sprinkle water, and if the surface turns white, the mastic residue isn't gone. Just simply keep adding water, and wiping surface until residue is gone!
BEAN-e-doo Mastic Remover is not recommended for wood surfaces.
Coverage:
• Asbestos - 250 sq. ft. per gallon
• Vinyl - 200 sq. ft. per gallon
• Ceramic - 150 sq. ft. per gallon
VIEW IN OUR STORE