Fiberlock Aftershock Fungicidal Coating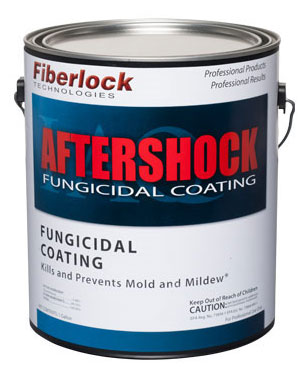 Fiberlock's AfterShock is an EPA-registered antimicrobial coating designed to kill residual mold and mildew remaining after pre-cleaning contaminated surfaces. AfterShock also inhibits the future growth and spread of mold and mildew on the cured film surface in residential and institutional buildings. This extremely durable, easy to apply, 100% acrylic sealant offers the ultimate in durability in combination with excellent fungicidal characteristics to address mold growth from water damage. AfterShock is recommended for use on interior wall surfaces such as plaster, wallboard, drywall, concrete, masonry block, wood, primed metal and galvanized metal. AfterShock is also recommended for use on interior wood framing, primed metal, concrete, and wallboard inside the wall cavity.
EPA Reg. No.: 73884-1
• Product Data Sheet (.pdf download)
• Safety Data Sheet (SDS) (.pdf download)
Comes in 1 gallon cans and 5 gallon buckets.
VIEW IN OUR STORE