What Kind Of Product Brands Does Epoxy Superstore Supply?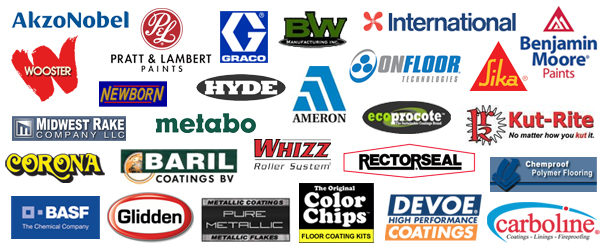 • Fiberlock
• Norklad Colored Epoxy
• Glidden Non Slip Paint Additive
• HPU Urethane Clear Coat
• BW Concrete Floor Grinders
• Devoe Coating
• Sika Sikaflex
• Kut-Rite Concrete Floor Grinders
• Metallic Mica Flakes

• Wooster Brush
• Corona Brushes
• Pratt & Lambert Paint
• Benjamin Moore Paint
• Onfloor Grinders
We are here to help you achieve the concrete floor surface of your dreams. Our floor and wall coatings adhere well to surfaces such as concrete, metal, tiles, wood, drywall.
The process is simple. First, prepare your floor with a concrete etcher. For small projects, use Etch n' Clean. For large projects, consider a floor grinder. This must be done in order for the coating to penetrate or adhere to the surface. Next, apply your base coat. For first-timers, we suggest water based epoxy like Norklad WB because it is easily applied with a roller. For experts, we carry a wide array of industrial epoxies including 100% solids. For basic projects, you can stop here, but you may also want to apply a clear coat for maximum attractiveness and protection. If you are applying color chips or metallic mica flakes, sprinkle them on your base coat before applying the clear coat. This can be epoxy or one of our aliphatic urethanes. If you are looking for more detailed instructions, visit our instruction guide.
Please visit our sister site www.originalcolorchips.com for more information on our floor coating systems including videos, photo galleries and more.
Looking for a unique Metallic Epoxy Floor Kit? Be sure to visit our Pure Metallic Epoxy Floor Coating website at www.puremetallic.com.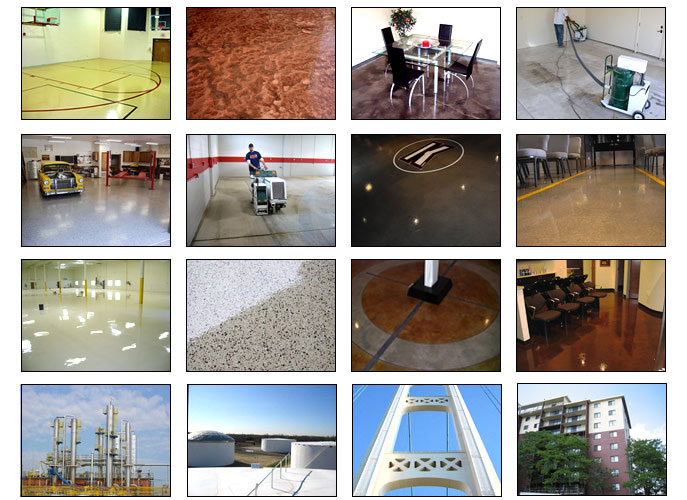 Epoxy Superstore carries: 100% Solids Epoxy | Urethane Clear Coats | Solvent Based & Water Based Epoxy | Colored Epoxy | Concrete Etching | Concrete Floor Paint | Acrylic Sealer | Alkyd Enamels | Fiberlock Encapsulant Coatings | Concrete Floor Grinders | Adhesive & Mastic Removers | Non Slip Paint | Serrated & Notched Squeegees | Paint Brushes | Floor Coating Kits